Celebrating International Clinical Trials Day
On the 20 May, healthcare workers, researchers, patients and communities come together around the world to mark International Clinical Trials Day. Our research staff and patients tell us why they think clinical trials are important.
Michelle, NIHR Cambridge CRF participant said:
"I decided to join a research trial because my cancer returned and my doctors gave me two options, start chemo again or join this research trial.
The nurses have been great, putting me at ease and have looked after me. The set-up feels different here than a hospital ward. It has made me want to take part in other trials in the future.
Once you've joined, you feel committed and know that you're making a real difference. Research is important because medicines won't improve if you don't help and take part."
David, NIHR BioResource participant said:
"I have just taken part in a flu vaccine study and donated my last blood sample. It was really easy and straightforward.
The first study I ever took part in was for prostate cancer several years ago, and by chance, the team found cancer cells even though I had no symptoms and I was able to get it treated quickly.
That prostate study saved my life, if it wasn't for that, I wouldn't be here today. Research is important and we need more people to take part."
Jennifer, NIHR BioResource participant said:
"I'm a researcher and I know how important it is to have clinical data for research, so I could not, not take part.
I took part in a COVID-19 study as a healthy volunteer and I was asked to donate some blood. I was here for 10 minutes and I was surprised how quick my appointment was. I've really enjoyed receiving the published articles and what the researchers found using my data. It's exciting to be able to make a difference doing something so simple, because you never know if you or a family member may need that treatment."
Ian, NIHR BioResource participant said:
"I have an interest in medicine and the advancements made in science. I am grateful to the NHS for all their work and have been donating blood for 55 years, so that's why I take part in research.
My latest trial was for a flu study and I have to give several blood samples over a period of time, all the appointments have been fine.
Research is important because medicine can't advance without it. The more people that can help means more health conditions could be resolved."
Vera, NIHR Cambridge CRF participant said:
"I was invited to take part in a cancer trial by my doctor. I read through the notes and thought why not? If it doesn't help me, it might help someone else in the future.
Taking part in research is really important and I am thankful for the opportunity and that we have so much research happening in Cambridge.
I would encourage anyone to take part in research if you get the chance. All the nurses are lovely and nothing is too much trouble."
Gillian, NIHR BioResource participant said:
"I started taking part in research because a family member had health problems and I wanted to help future patients and the NHS.
My last trial was for a COVID-19 study and I was asked to donate some blood. It's really quick and I've never had to wait. I donate a sample and then I can get on with my day. Everyone is really nice here.
Research is a great way to learn about diseases and it can improve healthcare. Taking part is such a small thing but it makes a big difference and it feels like you're giving something back."
Thea, NIHR Cambridge CRF participant said:
"My doctor suggested I join the trial and for me it felt like a last resort, but it has turned out to be more positive than I could have hoped for.
The care I have received has been wonderful, from the nurses to the study team. The study team are always happy to answer any questions I have.
I would encourage anyone to go on a trial. It's a good routine and you always see the same people. It has been a good experience and it could help other people in the future."
Emma, clinical research nurse, NIHR Cambridge CRF said:
"COVID-19 made me realise just how important research is and that clinical trials can be life-changing.
Working in research has been the best decision I ever made. I'm still working on a ward and providing patient care which is what I love, but I'm helping researchers find new medicines.
It's so fulfilling, it's more than just a job, it's for the benefit of others. It makes a difference knowing these trials could help so many people."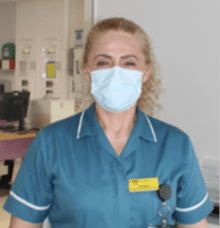 Silvana, research support assistant, NIHR Cambridge CRF said:
"I started as a cleaner at the CRF and I didn't know then what research was. The CRF has shown me the importance of research and how it can help so many people. I see how lucky Cambridge is to have this facility.
When I became a research assistant I was given all the training I needed, learning about research and what happens during a trial. I love supporting the staff and looking after all the wonderful patients who take part.
Working here has been a great career move. It has given me so much confidence that I'm about to become a healthcare assistant and can look after more patients in the hospital."
Erika, research sister, NIHR Cambridge CRF said:
"I've been in several oncology posts but working on oncology and first-in-human trials is brilliant.
The research is really fulfilling because you're trialling something new and you're thinking, 'This treatment could change the future of medicine'.
There are so many highlights working in research. I see how important clinical trials are and the difference we're making to future patients.
Our participants are amazing too, they all want to take part because they want to help others. I've never been a part of something so wonderful, and everyday I look forward to coming to work."
Take part in a research trial with the NIHR
If you would like to take part in a research trial, find out more:
Contact your doctor/ GP or nurse